Decided to make a little shopping post after getting some new stuff today  😛
I don't know why, but it seems like WordPress hates me. It took me more time to upload the images than to write this whole article :rolleyes:
As you can see, the content is quite random! Before leaving the house, I got my package from Japan containing my two Pokemon plushes I wanted for so long 😀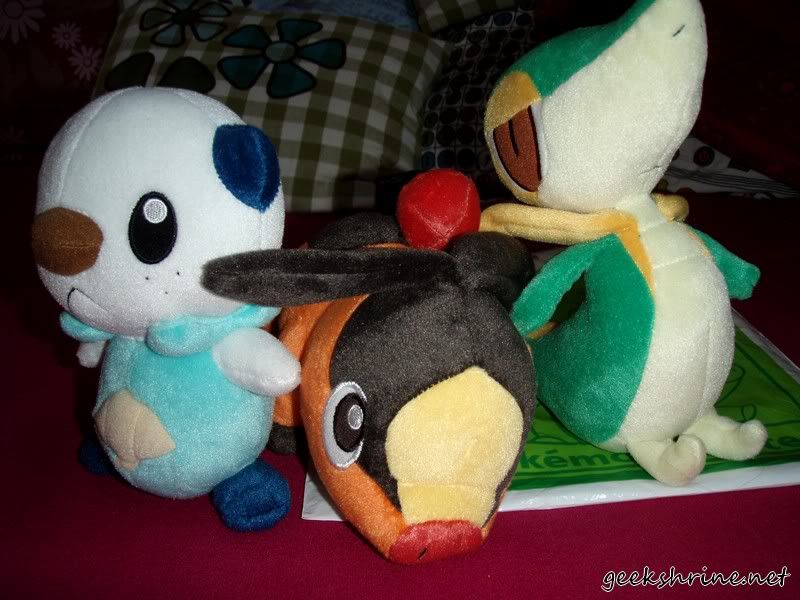 I already got Oshawott a while ago but since I thought it would be better to have the three Black and White starter Pokemon as plushes, I ordered Tepig and Snivy too 😉
I think they look totally adorable and I'm really glad I got them. I haven't bought a Pokemon plush for so long and ever since the new games, I've been collecting a few things related to the new Pokemon generation that I could find.
Then I was able to find No More Heroes: Heroes' Paradise which I wasn't sure if I should get at first but being a huge fan of the Wii games, I still had to add it to my collection. Only problem is that I don't have much space left on my PS3 so I guess it's time to change the HDD  😛 Also bought the 5th volume of Bloody Monday, a manga I've been picking up regularly and which I was still missing.
And before leaving the store, I discovered this Angry Birds protective shield for the iPhone 4 :green: I only have one of Wonder Woman and it's always nice to change them from time to time. I would still have preferred to get the red bird but between the yellow and green one, I decided to pick up the yellow one! Sorry about the second picture, it's kind of blurry but I still wanted to show what it looks like on the phone.
Now excuse me while I go and get ready for Pirates of the Caribbean: On Stranger Tides :green: